A Brief History of Brand Hydraulics Corporation
Located in Omaha, NE, Brand Hydraulics has designed, manufactured, assembled and tested hydraulic valves since 1956.
Brand Hydraulics was founded by Glen Brand and his wife Mary Lou. Having won the 1948 Olympic Gold Medal in London, England in free-style wrestling, Glen studied engineering at Iowa State. Since Glen's passing in 2008 the company has been run by their son, Greg Brand.
In 1997, Brand began to design and incorporate electronic controllers and custom wiring harnesses into their product line. Brand is committed to the future of hydraulics and electro-hydraulic components and continues to develop hydraulic valves, electronic controllers and products which incorporate both (electro-hydraulics).
Many of the products Brand provides are modified to specifically fit our customers' applications and needs. Feel free to give our engineering department a call to learn more about special modifications to meet your needs.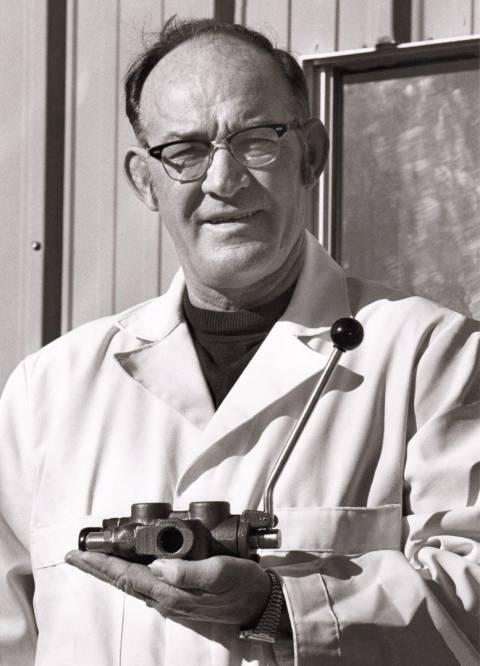 Brand believes that a company begins with and continues to succeed based on the quality of their employees, their dedication to working as a team and their ability to achieve a common goal. Our common goal is our mission statement which reads:
"BRAND HYDRAULICS WILL CONDUCT BUSINESS WITH INTEGRITY AND WILL STRIVE TO EXCEED CUSTOMER EXPECTATIONS WHILE PROVIDING VALUE AND INNOVATION IN OUR PRODUCTS AND SERVICES."
Brand's professional, well educated and trained staff is looking forward to serving you in a timely manner.
Brand's investment in technology is impressive. We incorporate state of the art computers and manufacturing equipment in order to help realize our mission statement.
Brand's commitment to quality and continuous improvement is evident in our ISO 9001 certification. Brand was certified to ISO9001:1994 in January of 2002 and has since upgraded to ISO9001:2008 With Design. Smithers Quality Assessments, Inc. is our Registrar and our Certificate Number is #02.002.01.
Brand's website is comprehensive and incorporates all our detailed product information, as well as, a host of other useful information. Our website contains another website within, called DISTRIBUTORS' COMMERCE. This site is specifically designed, and continually growing, for our distributors.
Brand sells its product throughout the world and enjoys exporting product to many countries.
Give Brand Hydraulics a try. We believe you will be glad you did!!!